Cloud Computing
Private Cloud refers to the provisioning of cloud computing services for predefined users. Management and operations are handled within a company. Access to the private cloud is restricted to authorized persons by the operator.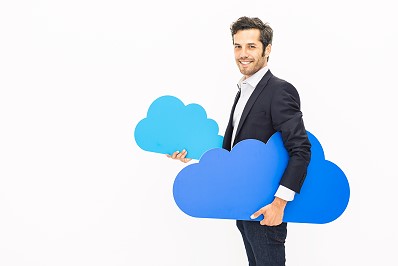 The public cloud provides a variety of highly standardized, scalable business processes, applications, and / or infrastructure services. This is based on a variable "pay per use" system, which is basically available for everyone at the same time (multi-client capability). The users are organizationally not affiliated with each other. The public cloud aims at the economies of scale. Many users share an underlying infrastructure.
With the hybrid model, a company runs its own private cloud solution and uses public cloud services for peak loads. A hybrid cloud is not a separate cloud type, but rather a scenario for any kind of link between traditional IT, private clouds and public clouds. The overall responsibility remains with the customer, the IT operational responsibility with the respective IT operations manager.
Cloud computing offers the following advantages:
multi-client capability, i.e. one instance is used by many users
"turnkey" solution including all necessary resources
"self-configuration" via an interface for the dynamic control of the resources
usage-dependent billing
provision via the Internet
easy usability via easy to access user interface
scalability
public service interface / API
We've got the appropriate solution for your needs!
We host your IT infrastructure
We design individual hosting solutions according to your specifications.
We are your reliable hosting partner.
We use state-of-the-art technology.
Our main focus is to establish a long-term and successful partnership with you. Benefit from our technical know-how and learn more about our attractive offers, whether you are interested in a flexible managed cloud based on OpenStack or VMware, dedicated server hardware, highly available cluster setups or in special requests. Our product portfolio consists of high-quality branded goods.
Office 365 - Your office in the cloud
With Office 365, Microsoft is making its well-known office software suite available as a cloud-based service for the first time. This results in evident advantages for the users:
Flexibility
Office 365 is available for various devices such as smartphones, tablets and notebooks;
whether you're on the way, at home or in the office - you can work independently from your location.
Low investment risk:
billing is done either monthly or annually;
costs are per user;
always having access to the latest version of MS Office products (Word, Excel, etc.).
Office 365 is offered in distinct variations. We would be pleased consulting you on the selection of the solution that best suits you and the switch-over of your existing infrastructure.