Workshop Service
Nowadays a highly available, state-of-the-art IT is a decisive factor for business success. In case of IT system failures immediate repair and system recovery has topmost priority. For this reason, MD has developed a whole package of support and repair services that will enable your business operations to go off smoothly.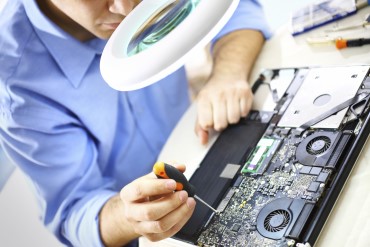 Client Management
Permanent on-site support of IT and communications infrastructure.
1st and 2nd level support.
Installation of default software (OS, Adobe Reader, Java runtime, PDF Creator, etc.).
Software roll-out.
Installations (hardware / software), business relocations, enhancements and modifications.
De-installation (software) / disassembly (hardware) as well as recycling / reuse.
Help Desk services
Modularly designed user help desk packages suitable for all requirements.
On-site user help desk (front office).
Central user help desk (back office).
Repair and replacement services
Troubleshooting.
Repair / maintenance of server and storage systems.
Repair / maintenance of network, security and communication systems.
Repair / maintenance of notebook and personal computers, printers and other peripherals.
Warranty service including spare parts handling.
Preventive maintenance agreements.